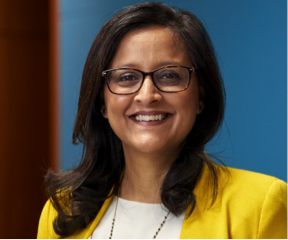 Coaching through Covid: The Alchemy of Coaching, Psychological Safety & Compassion in Adaptive Leadership & Teaming
Mark McMordie (CEO, The Conscious Leader), Lindsay Wittenberg (founder, Lindsay Wittenberg Ltd), Carole Osterweil (founder, Visible Dynamics), Sasi Panchal and Liz Hall (Liz Hall Coaching and editor of Coaching at Work), who will explore the role of coaching, psychological safety and compassion in adaptive leadership and teaming on the Coaching through Covid programme.
Sasi Panchal is a Leadership Coach and a Practitioner of Brain & Behaviour Change. In a world of uncertainty, Sasi supports leaders to create meaningful and lasting change for themselves and their teams. She describes herself as constantly curious in the pursuit of ways in which to support and embed sustainable leadership behavioural change through coaching.
Sasi is co-author of a peer-reviewed research paper which launches a new coaching model, GROWS (Panchal & Riddell, 2020). This is a novel, evidenced-based coaching model that has integrated advances in a health behavioural change approach within the medical profession. The research is an insightful look at the different stages involved in changing behaviours along with recommendations on how to use the GROWS coaching model successfully to embed behavioural change.
Sasi's approach to coaching now integrates the latest developments in applied neuroscience to help leaders and teams to harness the power of the brain for individual and collective benefit. Sasi's leadership consultancy spans; teaching at Henley Business School, facilitating psychological safety in organisations and coaching teams to enable human potential and innovation in culturally diverse teams.
At home Sasi enjoys spending quality time with her daughter and friends, meditating and walks in nature. She volunteers for Coaching through Covid, NHS Volunteer Scheme & Thrive with Mentoring.